CORONAVIRUS
Europe's Virus Toll in Italy and U.K. Keeps Focus on Lockdowns
Italy reported the most new coronavirus cases in a week and the U.K. recorded more than 900 deaths for a second straight day, keeping key European countries focused on maintaining lockdowns.
Even as the U.S. passed Italy as the country with the most virus-linked deaths, Saturday's data offered little encouragement for Prime Minister Giuseppe Conte as he seeks a tentative restart of Italian commercial and public life. Deaths slowed in Spain, Germany and France, suggesting that restrictions are having an effect.
With the U.K.'s death toll approaching 10,000, government officials said the country is in the early stages of stemming the outbreak. Prime Minister Boris Johnson is still recovering from his infection, and Home Secretary Priti Patel declined to speculate on when restrictions might be eased.
"I don't think we can emphasize enough is that we're still in Round One here," National Health Service England Medical Director Stephen Powis said at a news conference. "We're still fighting the virus very early on."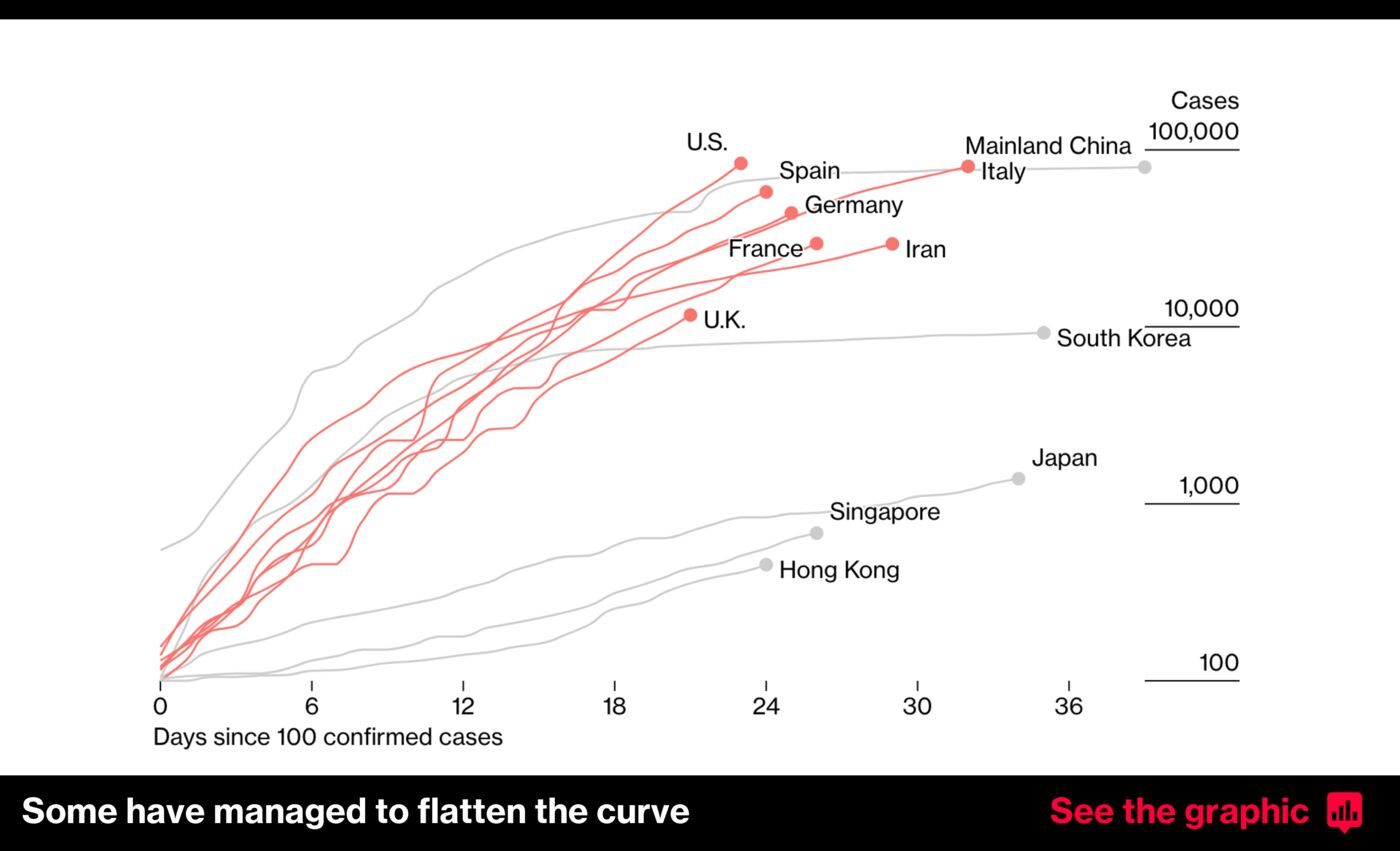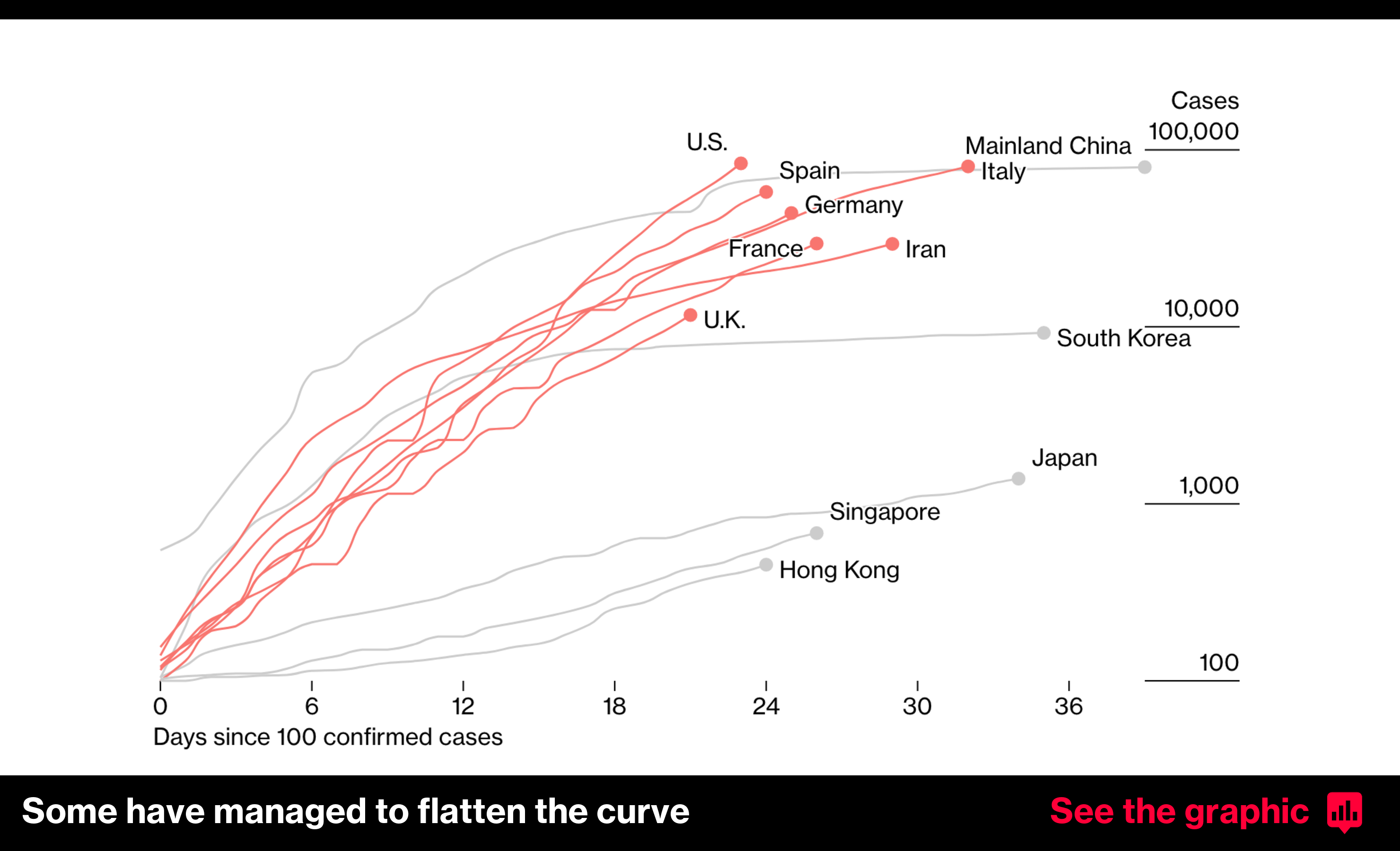 Italy, with the most deaths in Europe, has stepped up screening for the coronavirus in recent days. Confirmed cases increased by 4,694 in the latest 24-hour period, bringing the total to 152,271, Italian officials said Saturday. Deaths increased to 19,468 as the pace of fatalities accelerated from the previous day.
Conte on Friday extended Italy's lockdown measures until May 3, while announcing waivers for a small range of businesses and shops. French President Emmanuel Macron plans to address the nation on Monday about extending almost a month of confinement measures.
Italy's restrictions, which include a ban on all non-essential business, have battered the country's already weak economy, which UniCredit SpA estimates is poised to shrink by 15% this year.
Opening the Door
A limited number of employees in Italy, Spain and elsewhere will be allowed to return to work in the days ahead to prevent mass bankruptcies and unemployment. Workers will have to follow strict health protocols in factories and stores, maintaining social distancing and washing hands frequently.
Austria, Denmark and Norway are also taking initial steps toward returning to normal. President Donald Trump plans to unveil a task force to advise on reopening the U.S. economy.
Read more: Austria Sets Course From Lockdown After Leading Europe in Freeze
In Spain and across Europe, political and business leaders are increasingly talking about a "new normal" that will follow the lifting of lockdowns. To blunt the economic devastation, European Union finance ministers this week agreed on a 540 billion-euro ($590 billion) plan of support measures.
While Europe has reported more than 65% of global coronavirus deaths, there are signs that the worst-hit countries may be nearing a peak in infections.
Spain reported the fewest deaths since March 23 on Saturday, with the toll rising by 510 to 16,353. New deaths in Germany declined to 129 and the pace in France slowed for a second day in a row with 635 new deaths reported.
'Not the Time'
While French intensive-care cases declined to the lowest in a week, a public health official said it's too early to relent.
"Now is not the time to end confinement," Jerome Salomon, France's Director General for Health, said at a briefing. "The pressure on hospitals remains very high."
The Defense Ministry in Paris said France's only aircraft carrier, the Charles de Gaulle, is returning from operations earlier than planned after several dozen sailors fell ill with the virus.
In Turkey, a late-night government announcement of a surprise weekend lockdown sent thousands of people rushing to grocery stores across the country.
Public compliance with lockdown and social-distancing edicts remains a key challenge for officials anxious to break the chain of infections.
"I'm struck that people aren't respecting physical-distance rules," said Salomon, the French public-health chief.